© Getty Images
Doing a Brilliant Job at Colouring Your Hair at Home
Are you ready for copper-red hair? Do you feel like handing in your life as a blonde to try out what hazel hair will do to your image? From platinum blonde to pitch black hair, learning how to dye your hair at home and home colour treatments deliver endless choices. Aren't you glad that you don't even have to visit the hair salon for your change in hair colour, and know about colouring hair at home? We let you in on all the hair colouring secrets. Apply our simple hair dye tips and tricks and you will master changing your hair colour at home.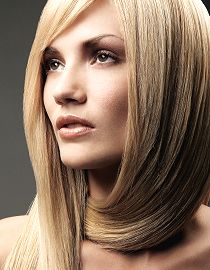 Before learning how to colour hair, it's important to know what hair colouring is. Hair colouring creates true colour, which does not disappear after a few shampoos like a tinting treatment. Hair colouring and tinting are based on different chemical processes. In hair colouring, hydrogen peroxide removes the natural colour pigments from your hair while new artificial colour pigments penetrate the inside of each hair. This anchors the new colour to your hair. Hair colour treatments can even completely cover gray hair. By the way, intensive tinting treatments also contain true hair colours. A good hair dye tip and rule to know is that you are dealing with true hair colour whenever you have to mix two components (the dye and the developer) immediately before use.
Hair Colouring: Big Steps or Subtle Moves?
You are going to be spoilt for choice! When colouring hair at home, there are hair colours galore; but what is the right colour for you? Is it caramel blonde or rather light brown? How about some reddish nuances? Would ash hues look better?  Once you have decided to colour your hair, your choices are seemingly unlimited. However, a hair dye tip that experts recommend, is to use colours which are no more than two shades lighter or darker than your natural hair. That will give you the most natural looking results. When learning how to dye your hair at home, it's important to note that changing your hair from dark to a very light blonde may create a dissonant overall appearance because the eye and eye brow colours do not match. Such mismatches advertise your hair colour as fake.
Another hair coloring tip: you also need to consider the colour of your complexion before putting red, copper or gold nuances into your hair. Red is not a matching colour for yellowish or olive skin tones and it also does not work for very reddish skin. Ideal for reddish hair colours is an even complexion and very light, slightly pinkish skin. You should also consider when colouring hair at home that dark hair colours can make an already light complexion look very pale. Ash coloured hair in pearl tones has a way of making yellowish complexions appear colourless and gray. By contrast, pearl nuances can look rather lively with fine gold or reddish streaks or on women with reddish undertones in their complexion (most women who are native to European countries).
Hair Colouring: Exacting and by the Book
Seriously, when colouring hair at home little can go wrong. Still, it makes sense to read the package insert thoroughly. Make sure to stay within the specified application time. The latter is particularly important for blonde shades and true blonde colour treatments. If the colouring agents are washed out too early your hair may show an orange or yellowish tinge. Leaving the blonde colouring agents in your hair for too long is going to damage your hair.
Home Hair Colouring – Other Helpful Hints, Hair Dye Tips and Considerations
Arrange all hair colouring tools and ingredients within easy reach and don't forget the timer. Wear your most raggedy t-shirt and put on the gloves included with the colouring treatment.
When learning how to colour hair, always perform an allergy test before using any hair colour. You find the instructions for this test on the package insert along with the colouring instructions.
Apply the colour to your hair according to the instructions. Be sure to check whether the colour should be applied to dry or damp hair
A hair colouring tip to be aware of: residual hair colour from previous hair colourings may cause the resulting hair colour to deviate from the advertised colour on the package.
Caution! The colouring results may be quite surprising if you have coloured your hair using henna or a henna-containing colouring extract from plants in the preceding four months. The same also applies to a change from artificial to biological hair dyes. 
In case your hair colour has turned out to be too ash-coloured or grayish when colouring hair at home, simply use a tinting treatment or a colour shampoo to add a reddish or golden nuance.
You want to perm and colour your hair? A good hair dye tip is to not do it at the same time or in quick succession! Allow your hair to recover for one or two weeks after a perm or colouring treatment.
Chances are that you love your new hair colour. Make sure to write down the colour nuance for your next treatment when you decide to dye hair at home. You won't have to guess when purchasing your next colouring treatment.
Use shampoos and conditioners for colour-treated hair so that your hair colour retains its luster and stays healthy. Colour-treated hair needs special care. Therefore one of the most tried and tested hair dye tips is once a week, you should apply a conditioning mask to bring out the beauty of your hair.