© Getty Images
Hairstyles for Frizzy Hair
Very frizzy hair? No problem! When you don't have time for anti-frizz styling or don't feel like it; keep your natural curls and make the best of them! We will show you how to style frizzy hair.
There are many hairstyles for frizzy hair. On the one hand, you can contain the hair by making a bun or tuft and keep it pretty much in check, thereby taking its "freedom" away. On the other hand, you can let the curls naturally fall in place and use slight hand movements to style it into a nice shape. Here are some of our suggestions:
1. Straight Top, Frizzy Length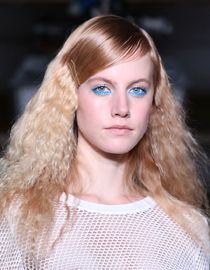 Curls are usually not visually disturbing lengthwise but their volume in the immediate area of the face can be difficult to deal with. A good compromise is to let your hair be natural for the most part and straighten it only from the top of the head to the temples. The perfect tool to achieve this hairstyle for frizzy hair is a pair of hair straighteners (make sure you protect yourself from the heat!). By the way, this is also a very exciting look with its contrast between straight and frizzy.
Extra Tip: Use hair oil to make it soft and smooth.
2. Quiff with Frizzy Length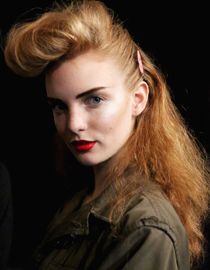 Use the volume that comes from your hair's curly structure and bring it up to the top of the head and twist it into a quiff. To create this frizzy hairstyle, simply take a thick section of the fringe, form it into a bun starting with the ends and fix in place with a hair comb. Pull back the hair on the sides using wax and fix it in place with a hair comb. The rest of the hair remains natural.
Extra Tip: Using a striking, colorful hair clip is especially eye-catching.
3. Tame in the Front, Frizzy Elsewhere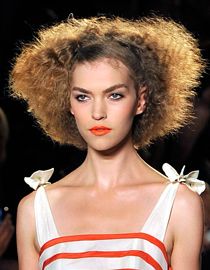 Make a part and fringe and fix the fringe and/or side hair in place with hair clips. This hairstyle for thick frizzy hair is so easy that the natural curls end up looking wonderful and the completed look remains very natural. If you like, you can use some hair wax to help keep the natural smoothness around the face.
Extra Tip Use a matte paste for styling – This works really well given that frizzy hair tends to become dry.